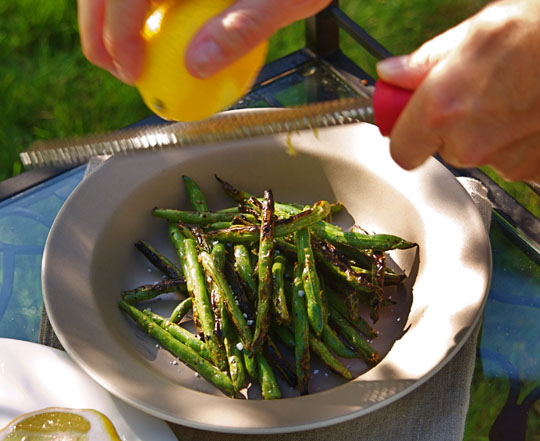 1 lb. fresh green beans
1 tbsp lemon juice,
lemon zest
4 tbsp extra virgin olive oil
2 to 3 cloves of garlic, crushed or minced to a paste

1/2 tsp kosher salt or to taste
pepper to taste or
1 teaspoons red pepper flakes
1 teaspoon cumin seeds, whole or crushed in a mortar and pestle (optional)
-Directions-

Preheat the oven to 425 degrees F.

Trim the ends of the green beans.
Mix all ingredients except the Parmesan cheese in a large ziplock bag. Let flavors marinate for 10 minutes or so.

Spread out evenly on a parchment lined baking sheet.

Roast, stirring once halfway through, until lightly caramelized and crisp tender 12 to 15 minutes.
Remove beans from heat, sprinkle with Parmesan cheese
Photo by Donna Turner Ruhlman
Recipe adapted from
July 8, 2011