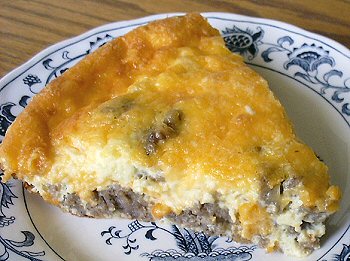 1 deep dish pie shell, 9-inch

8 ounces bulk pork sausage

1/2 cup onions

1/3 cup green or red pepper

1 1/2 cup shredded Cheddar or Swiss cheese

4 eggs beaten

1 cups evaporated milk or half-and-half

1 T. parsley flakes

3/4 teaspoon seasoning salt

1/4 garlic salt

1/8 teaspoon pepper
Bake pie shell in a preheated 375° oven for 5 minutes.
In a skillet, brown the sausage over medium heat, breaking up and turning. Saute onions and peppers. Drain well and put in pie shell. Stir 1 T. flour into shredded cheeses and add to pie. In a bowl, whisk together the 4 eggs, milk, and spices. Pour egg mixture over sausage and cheese mixture. Bake quiche at 350° for 30 to 35 minutes, or until a knife inserted in center comes out clean. Let stand for 8 to 10 minutes before serving.
Serves 6.